Data Center Raised Floors - Design and Build Services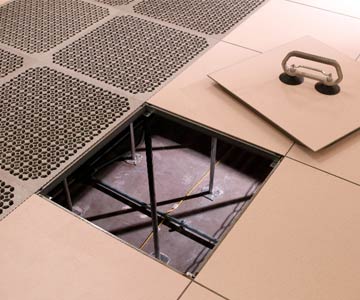 Raised Access Floors have been a mainstay in Data Centers since the beginning of the Data Center Room. It is a perfect choice for the distribution of air, as well as high and low voltage cabling, because of the flexibility that comes with the use of the access floor system. Add to it the increased importance of data in today's business environment and you start to understand why the ideal data center requires Raised Access Floors in order to have the ability to adapt for future technology. Interior Systems, Inc. along with their manufacturer partner Tate Access Floors, understands that and is ready to help you create the perfect room that will adapt accordingly.
Tate Access Floors, Inc. is the largest and most diversified manufacturer of Raised Access Floors in the United States and has been successfully represented by Interior Systems, Inc. for almost 20 years throughout Illinois, but more specifically the Chicagoland area.
Interior Systems, Inc. carries the complete line of Tate Access Floor products including all of the various design loads of the ConCore™ "filled" steel panels and the All-Steel "hollow" panels as well as the Woodcore panel. In addition, we also carry Tate's line of airflow panels and grates including DirectPerf, GrateAire™, SmartAire™, and PowerAire™.
Today's Data Centers must be designed to handle large numbers of data cables, power cables, and water lines. More importantly, they must also be capable of efficiently handling the high density of air flow required to cool the heat load produced by high-density rack loads throughout the facility. Lastly, the Data Center must be flexible enough to adapt to the latest technology. Call Interior Systems today and we will help you with all your Data Center needs, insuring that you properly plan for today's and tomorrow's needs while simultaneously being both cost-effective in both construction and operation.
Advantages of a Raised Floor Include
Consistently greater cooling capabilities and temperature control
Ability to accommodate a range of cooling solutions with better efficiency
Has the ability to integrate redundant cooling with various cooling strategies
Design flexibility allows the opportunity to incorporate the most energy efficient cooling designs for Data Centers
Allows for the ability to make technological or client changes at a lower cost over the life-cycle of the Data Center
Provides the best overall location for the distribution of water/liquid cooling agents to row and rack based equipment
Affords the ability to separate water, power and cables
Reduces operating costs with lower maintenance and facility costs
Provides an optimal platform for future expansion
Product Data and Specifications
ConCore access floor panels are epoxy coated unitized shells consisting of a flat steel top sheet welded to a formed steel bottom sheet which is then filled with a highly controlled mixture of lightweight cement. Manufactured to exact tolerances, these solid panels deliver the ultimate in design, performance, plenum integrity, service, and usability.
Concore System Performane Chart
The Performance Chart below is divided into two sections to help you evaluate the overall performance of the systems. System performance criteria is the most critical to consider since it represents the performance within a typical installation.
Panel

U/S

SYSTEM
WEIGHT
(lbs/ft²)

STATIC LOADS

ROLLING LOADS

IMPACT
LOADS
(lbs)

Design
Loads*
(lbs)

Safety
Factors*
(min 2.0)

10
Passes
(lbs)

10,000
Passes
(lbs)

ConCore 1000

Bolted
Stringer

9.0

1000

PASS

800

600

150

ConCore 1250

Bolted
Stringer

10.0

1250

PASS

1000

875

150

ConCore 1500

Bolted
Stringer

10.5

1500

PASS

1250

1000

150

ConCore 2000

Bolted
Stringer

11.5

2000

PASS

1500

1250

150

ConCore 2500

Bolted
Stringer

12.0

2500

PASS

2000

2000

150

ConCore 3000

2″ Deep
Bolted Stringer

13.0

3000

PASS

2700

2400

200