Commercial Design and Build
Interior Systems, Inc. is a full-service interior build-out contractor offering buildout and remodeling services for your new or existing commercial spaces. Whether you are doing a Design-Build project, an interior office remodel or just a small tenant buildout, we are ready to assist you from start to finish.
As a full service General Contractor, Interior Systems, Inc. is 100% committed to providing all of our customers with a quality project at a competitive price. This includes the offering of our Design/Build service.
With our Design/Build service we offer a one-stop solution. We will take your vision and specific project requirements and turn them into the final project you are looking for. The advantage of Design/Build is that we will be fully engaged in the entire process with our design team and our construction team to provide you with a complete turn-key project allowing our customer to have only 1 point of contact throughout the process. This process will allow our team to work as a single entity to the benefit of our client. This is especially important for those clients who are looking for the important construction management benefits such as early identification of final costs, better quality design in a team process, and project completion in a shorter time frame. Our experts work closely with all facets of the process to bring together a quality team ready to complete the necessary steps required to complete the project as desired.
Chicago area Design and Build Contractor: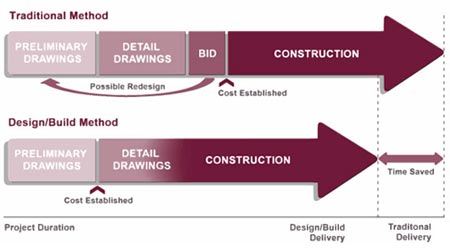 As the Design and Build contractor, it's our responsibility to take the owner's vision and project requirements and turn them into reality. From the start of the project, we are fully engaged in all areas of the construction process with our in-house design team, estimators, and construction teams providing a true "one-stop-shopping" approach and single source responsibility. Design-build is an alternative to design-bid-build where design and construction are split into separate entities and thus separate work.
Streamlining project delivery through a single contract between the owner and the design-build team transforms the relationship between designers and builders into an alliance, which fosters collaboration and teamwork. United from the outset of every project, an integrated team works to successfully complete a project both faster and more cost effectively, as well as minimizing the number of change orders. Some of our most popular design and builds included:
Business Offices
Warehouses & Manufacturing
Medical and Dental Offices
Retail Stores and Locations
Restaurants
Fitness Centers and Workout Rooms
Dance Studios